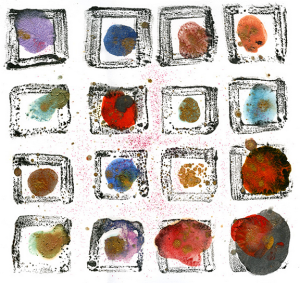 "Blot 2″ , Encaustic on paper, 18″x18" by Sandy Miot
I just discovered the encaustic prints of Sandy Miot today.  The print shown to the left is so lovely, with it's freeform blots and the order of the silver lines.
There is a playfulness to this piece that reminds me of summertime or of strawberries. A sort of joy haunts the work.
Having done some encaustic printmaking myself, I truly appreciate the skills necessary to create such a work of art. One must heat a metal palette, preferably a "Hotbox" designed by Paula Royland, melt paint on the palette, place paper on the surface of the work, and pull up the paper. It sounds so simple, but like most art, is a lot more complicated to do.
Well done, Sandy Miot!