Valentine's Day and Vintage Postcards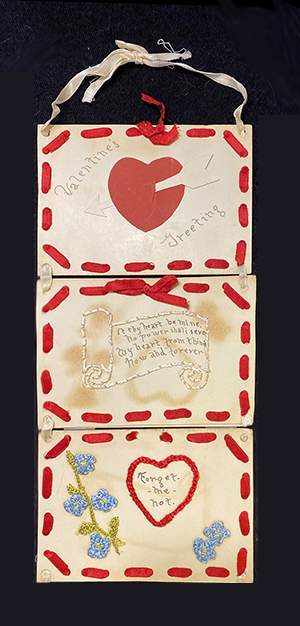 Valentine's Day is coming, and many of us will  make or send cards. Others of us will be looking to fall in love with our art making, and will need inspiration. So let's have fun by exploring what we can learn from Vintage postcards.
Here is a Mixed media vintage card. Let's start by analyzing it, beginning with the top card!
We can see a red ribbon that passes through the top card on the border.To create this effect on our own card, first one needs to measure the border, decide show many holes will be punched, and then  punch holes with a hole puncher. We can see that the ribbon starts its journey at the middle of the card top. The ribbon ends its journey right next to the start. So we can tie both ends into a bow to add color and beauty.
The heart and arrow appear to be cut outs, which are cut from other paper, and pasted onto the card.
The words all appear to be hand written with a pencil, so we can do that too!
The two lower cards all have embroidery. The middle card with its white thread  looks like a simple backstitch. The lowest card appear to have chain stitches and french knots. Don't know how to do these stitches? Time to check the internet! My first google hit was https://www.thesprucecrafts.com/stitches-every-embroiderer-should-know-4122123. This site shows all the stitches.
Finally, I love to add glitter and crystals to my work. I would use some Elmers glue and glitter, as a last step, if this were my card.  And we are done.
Thanks for reading! Have a Happy Valentines Day, everyone! 
Inspiring Valentine's day cards from my personal collection!